Intel vydal VP9 encodér SVT-VP9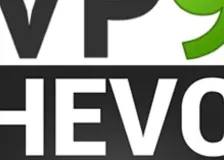 Před nedávnem vydal Intel open source AV1 enkodér SVT-AV1. Nyní přichází s open source enkodérem SVT-VP9 pro kompresi Google VP9. SVT-VP9 je asi 4 – 10 x rychlejší než libvpx. Zdrojové kódy naleznete na GitHubu. (zdroj: phoronix)
Jak je to s časem vzniku souboru na GNU Linux distribucích
Zarazilo vás někdy, že příkaz stat(1) z GNU Coreutils na Linuxu vypisuje kromě klasické trojice unixových časových značek access , modify a change navíc také jakési birth , u kterého ale hodnota chybí? Co tu vůbec to prázdné birth dělá? Zajímat o tuto málo známou časovou značku jsem se začal až před pár měsíci při debug...
Get started and organized with TiddlyWiki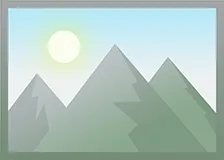 When you think of the word wiki , chances are the first thing that comes to mind is Wikipedia. That's not a surprise, considering that Wikipedia did help put the concept of the wiki into the popular consciousness. Wikis, which are websites you can edit, are great tools for collaborating and organizing. But wikis usually require a lot of digital plumbing and a bit of care to use and maintain. Al...
Distribution Release: Kali Linux 2019.1
Kali Linux is a Debian-based distribution with a collection of security and forensics tools. The project's first release of 2019 offers wider support for ARM devices and an updated version of Metasploit: "Welcome to our first release of 2019, Kali Linux 2019.1, which is available for immediate download.....
DistroWatch Weekly, Issue 802
This week in DistroWatch Weekly: Review: Slontoo 18.07.1 "LXDE"News: NetBSD testing newer compiler, Void reminds users of its official domain, Fedora porting the Deepin desktop, Debian updates media, changes in Ubuntu StudioTips and tricks: What being free, stable and light-weight meanReleased last week: Ubuntu 18.04.2Torrent corner: Archman, ArcoLinux,....
The Monty Hall Problem
The original and most simple scenario of the Monty Hall problem is this: You are in a prize contest and in front of you there are three doors (A, B and C). Behind one of the doors is a prize (Car), while behind others is a loss (Goat). You first choose a door (let's say door A). The contest host then opens another door behind which is a goat (let's say door B), and then he ask you will you stay behind your original choice or will you switch the door. The question behind this is what is the be...
Chris Lamb: Book Review: Painting the Sand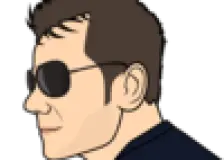 Painting the Sand (2017) Kim Hughes Staff Sargeant Kim Hughes is a bomb disposal operator in the British Army undergoing a gruelling six-month tour of duty in Afghanistan during which he defuses over 100 improvised explosives devices, better known as IEDs. Cold opening in the heat of the desert, it begins extremely strongly with a set piece of writing that his editor should rightfullyy be proud...
KDE releases a new version of the Plasma desktop environment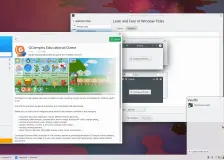 Say hello to Plasma 5.15 , the newest version of KDE's acclaimed desktop environment. This February release of KDE Plasma comes with a wide range of new features and improvements. The main focus of developers has been stamping out all minor problems and papercuts of the desktop, aiming to make Plasma smoother and easier to use. Plasma's configuration interfaces have been redesigned, expanded an...
Reportáž psaná na střeše hotelu: dva bezdrátové gigabity na 80 GHz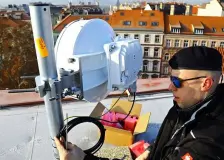 [13 minut čtení] Dobré připojení k internetu je dnes pro hotel naprostou nutností a hosté ho vyžadují úplně stejně jako teplou vodu a snídani. Co když k vám ale nevede optika? Přichází na řadu bezdrátové pojítko. V rámci reportážního seriálu Na návštěvě se máme možnost podívat na různá zajímavá místa. Od vysílačů na vrcholech hor až do podzemních štol. Tentokrát jsme dostali možnost přihlížet i...
Novinky ve WSL ve Windows 10 1903
Craig Loewen se v příspěvku na blogu Microsoftu věnuje novinkách ve WSL (Windows Subsystem pro Linux), které přinese Windows 10 1903. Jedná se především o možnost přístupu z Windows (Průzkumník souborů, explorer.exe) k souborům v nainstalovaných linuxových distribucích. Použit je protokol 9P.
Why Create a Snap App? This Video Explains All…
Canonical's Alan Pope lists 10 benefits of publishing apps in the Snap store. His talk was recorded at the FOSDEM Linux conference in Belgium. This post, Why Create a Snap App? This Video Explains All… , was written by Joey Sneddon and first appeared on OMG! Ubuntu! .
Outreachy Summer 2019 Applications Open With Expanded Eligibility
Outreachy, the program formerly known as the Outreach Program for Women and intended to get more females and other under-represented groups in technology engaged with Linux/open-source projects, has opened up their application process for those seeking a summer internship while receiving a $5,500 USD stipend...
Debian 9.8 released
The Debian project has announced the eighth update of Debian 9 "stretch". As a stable point release, this version mainly adds bugfixes for security issues and other serious problems. Click below for a list of changes.
Baví tě dělat weby a chceš profesně růst? Hledáme programátora / kodéra pro webové studio v Brně
Vydavatelství CCB (malá až střední firma) hledá uchazeče na pozici Programátor a kodér webů na trvalý úvazek (HPP), nebo i jiný (IČO, DPP, DPČ a další).
Píše se o